Skip Hire
Cheap Skip Hire  – 8 YARDS £260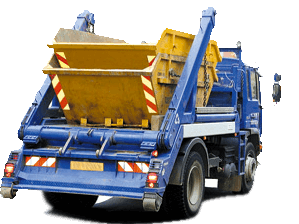 Have you been performing house redecoration or renovation works? Have you decided to finally get round to cleaning your garage or expanding your office? If so, you probably know all too well that the performance of the undertakings in question is connected with the necessity to remove tremendous amounts of rubbish, unwanted items, and debris from your property. You may contact our company and place an order for rubbish removal, but if you happen to live in London or on the outskirts of the city, you may also take advantage of one of our newest services €" skip hire London! Then, you do not have to pay for professionals performing all the work for you. You may work at your own pace, slowly clean the area around you, throw all the unwanted items to the container…and then ask our professionals to empty it and bring it back to you.
Cheap Skip Hire  – 12 YARDS £300
Skip hire London is possibly the easiest way of taking care about the cleanness of the construction or renovation site. Depending on your needs, a specific size skip may be delivered to you. If the scope of executed undertakings is notably vaster, you may even opt for a multi-skip option, in the case of which skip hire London is based on delivering and then emptying two or more containers simultaneously. Thanks to that, you can easily divide unwanted items into debris, damaged items of furniture, garden tools, construction materials, etc. The possibility of skip hire London does not mean, however that you will be left without any help or support. If your health condition makes it impossible or troublesome to put bags with garden rubbish or commercial leftovers to the skip, experts employed by our company will be honored to help you. Such a service will on the one hand increase the overall price for the order realization, but on the other – it will grant you the peace of mind and the ability to focus entirely on cleaning, redecorating, or rearranging your habitable, working, or storage space.
We would like inform all the interested individuals that the overall price of cheap skip hire London depends on few factors. One of them is the proximity of your office, house, or garage to the office of our company. What is more, you have to take into account the number of required containers to be ordered, their size, as well as the period of time they will be needed for. Fortunately enough, you will not be asked to cover the expenses of or purchase cheap skip hire London -related insurance, as our company takes care of all the legal matters connected with the realization of the order. After its conclusion, the hired skip will be loaded onto one of our trucks and taken away to our headquarters. You will be then able to fully appreciate the outcome of your redecoration or renovation works. What is more, you will be then granted a chance of planning future undertakings and changes to be introduced to your habitable of working space, as there will be no rubbish or leftovers ruining the overall image.
Contact us today and place an order for cheap skip hire London !